2019 Maytime Band Review and Music Festival
November 9, 2019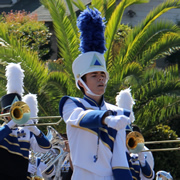 Time:
10:00 am - 6:00 pm
Near Kimball Park (at the corner of Plaza Boulevard and A St.)
E 12th St
National City, CA 91950
Join us for the 61st Maytime Band Review and Music Festival on November 9th, 2019.
The parade route this year will go down Plaza Blvd. and start near Kimball Park at the corner of Plaza Blvd. and A St., then turn right at D St. and end back at Kimble Park.
Additional Information
Enjoy a "No Fee" entry this year!
The Parade will take place on Plaza Blvd between A and D Avenue.
Drop-off, staging, warm-up, and silent areas will be held around the various streets neighboring Kimball Park and the Civic Center.
The Awards Ceremony will take place inside the Historic Kimball Park.