2018 Maytime Band Review and Music Festival
October 6, 2018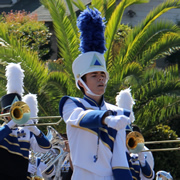 Time:
10:00 am - 6:00 pm
Near Kimball Park (at the corner of Plaza Boulevard and A St.)
E 12th St
National City, CA 91950
Join us for the 60th Maytime Band Review and Music Festival on October 6th, 2018, at 10:00 am!
The parade route we will begin near Kimball Park at the corner of Plaza and A St., then turn right at D St. and end back at Kimble Park. The award ceremony and music festival will be held at Kimball Park. This year's theme is Hometown Heroes.  Please take a look below to view the list of the competing bands and the Awards being given out to this year's competitors!
Parade Route and Ceremony Maps:
Click on the images below to view larger, or right-click and choose Save As:
Competing Marching Bands
Sweetwater High – "Red Devil Corp"
Castle Park – "Trojan Brigade"
Christian High – "Patriot Band"
Granite Hills High – "Eagle Band & Guard"
La Costa Valley High – "Maverick Brigade"
and more to be announced!
Special Unit
Sweetwater High School Marine Corps Junior ROTC
People's Choice Awards
1st Place – $1,000  |  2nd Place – $700  |  3rd Place – $400  |  Participation – $200
New Live Performances!
Also, new to this year is the addition of special live music festival performances at Kimball Park after the parade! Here is a partial list of confirmed bands and special live performances:
Live Festival Bands
Rossi Rock
Los Shadows
Spooky Cigarette
New Me
T.Rexico
Splavender
and more!
Special Live Performances
Jazmine Serrano
Ilallia's Dance Academy
Herencia Espana
Las Floresitas
and more!
Click here for the full list of live bands and performances, and to view our new Music Festival page!